Knock Knock Cricket Batting Training Aid
Revolutionary cricket batting training aid helps beginners to play like professionals
No need for a large area
No flying balls
No need for too many balls or collecting the balls
Very compact design for indoor and outdoor use
Best batting practice with very little effort
The only device in the world that helps beginners play like professionals
Can be used indoors when rain threatens a washout of practice session
Get £30 OFF on purchase of 2 kits. Use code KNOCK30 on checkout.
Available in 2 Colours*
GREEN
£140.00 Add to basket
ORANGE
£140.00 Add to basket
*Actual product colour may vary.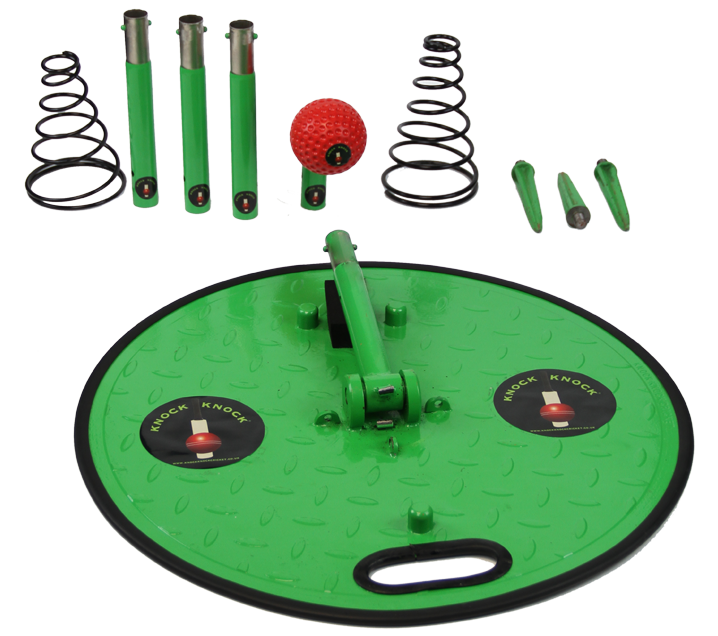 Knock Knock Cricket
Do more of what you love and feel great
This product helps the players improve their footwork by playing the ball on the front foot and right under their eyes.
I have seen lots of batsmen whose head doesn't come forward when playing shots. When they play a straight shot, their head falls to the side and as a result of that, they play lots of cross bats shots.
Some batsmen don't move their foot close to the ball while playing the shots that results in a lofted shot in the air that gets caught.
Training on Knock Knock Cricket batting training aid, a batsman can work all these problems quick and easy by applying the instructions.
Why should you get our training batting aid?
Cricket is one of the most popular sports in the world and especially in the UK. There are 15000 ECB affiliated clubs in the UK, each club has roughly 60 to 150 members playing cricket. There are roughly the same amount of midweek teams where people play cricket without representing an ECB affiliated crickets clubs. There are also 4.4 million children playing cricket in primary schools.
As an ex-professional first class county cricket player and a full-time cricket coach running my own indoor cricket center, I have seen lots of players struggling with basic batting techniques. There are some products in the market like a ball on the cone or ball on the string where you can do some batting practice. With ball on the cone, you need lots of balls and a very big area plus someone to collect the balls back. With ball on a string, you need to be really good in batting in order to play in straight line.
With UK weather you can't get enough practice outdoor. As a result, many kids and adults players are left without practice.
Seeing all this, I have come up with this revolutionary product called Knock Knock. Knock Knock is a spring back batting training aid with a ball on top.
It's a very compact design made with a metal plate, a metal spring and pipes. A batsman can play all types of shots with different lengths by stacking the pipes on top of each other with click-on pins to interlock them securely.
Cricket Batting Training Aid
The best training aid available on the market
Developed and designed by an expert Cricket coach, Knock Knock Cricket Batting Aids provide you an edge and help shape your game like never before. Order yours today!